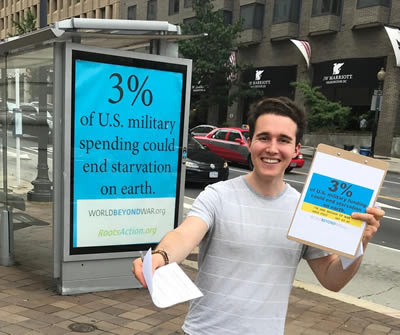 We started with a billboard in Charlottesville, Va., last December, and people seemed to like the idea. We put up a billboard in downtown Baltimore, MD. Individual donations kept coming in.
And groups began asking to partner with us. We put up billboards all over Syracuse, NY, including rolling around on trucks, and in Albany, NY. And groups began organizing events around the billboards and generating news articles because of them.
We now also have ads all over the Toronto subways. We have ads on bus shelters near the White House in Washington, D.C. And we've got 23-foot billboards going up in the middle of New York City from September through November.
Can you help us expand this work? We want to start moving these billboards and ads outside of North America as well as all over that continent. You can help in any of these ways:
1) Donate what you can to fund more billboards.
2) Raise funds locally to partner with us on putting up billboards where you are. The smaller the city, the less expensive the billboards, and the more interested the media. We'll help you with design and purchase and nonprofit bulk rates. We'll help you with media and with organizing flyering events, and educational events with speakers. Contact us by replying to this email.
3) Forward this email to anyone who might be interested in helping. Read about our billboards project, and share it on social media.

---
World BEYOND War is a global network of volunteers, activists, and allied organizations advocating for the abolition of the very institution of war. Our success is driven by a people-powered movement – 
support our work for a culture of peace.
World BEYOND War PO Box 1484 Charlottesville, VA 22902 USA